Three Amazing Blanket Designs
We are already in the Christmas mood and since we are happy with the year we had, the end of the year comes and we start to get thoughtful and retrospective about everything that happened to us, isn't that right? I believe that despite the challenges, it has been an incredible year for everyone here, especially speaking from the crafters side, I see that many people evolved and many people started crocheting through our blog and that is incredible! We are happy to be able to share with you a little bit of our world and to inspire whenever we can with incredible and challenging patterns!
Today, as most of the time, we have brought some incredible blanket designs for you to get inspired by. We may not have time to make them until Christmas, but we know that some people like to spend Christmas crocheting, my grandmother used to do it a lot, while we were all in the living room, she would sit in her old armchair crocheting and telling stories to her grandchildren, I loved it! The first blanket I've come to share is the one called Yuletide, inspired precisely by cold.
Yuletide Blanket
winter nights, which I promise is warm enough to cover us up and watch a nice Christmas movie. The creator of the pattern tells us that she visualizes the blanket draped on the back of a sofa or on top of her favorite armchair, ready to cover herself on a cold snowy day to watch a movie or perhaps read a book. We are inspired by the colors, scents and flavors of the Yuletide season.
It is a real cozy and comfortable blanket to leave exposed in your living room on winter days.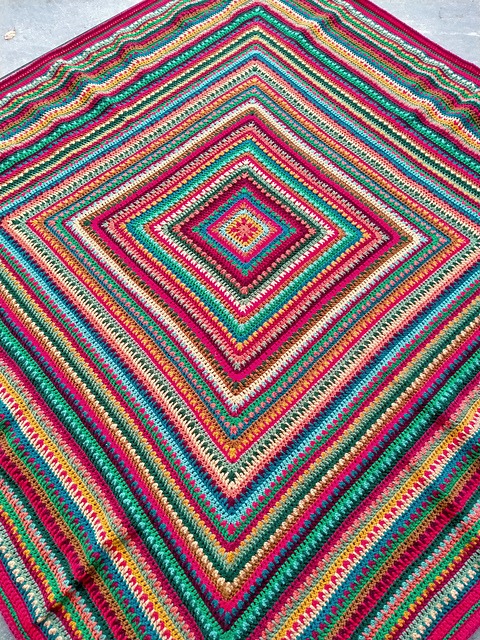 Mulberry Afghan
This lovely blanket was inspired by the best baby blankets, which is a great option to make when you have a baby at home or in the family. It's a simple Tunisian crochet, perfect for beginners, so if you're just starting out in this world, it will be perfect for you to get the hang of it! You will need the following materials: Three skeins of Lion Brand Anti-Piling, two Lion Brand Mandala Ombre cakes, 6.5mm Tunisian crochet hook with 32″ cord, Sciossors, a tapestry needle and candle blocking supplies.
Unfortunately we couldn't get this pattern for free to share, but we saw that it was an interesting pattern to share with you, we received several messages of different options for baby blankets, so this is a great option!
The Spice Market
Now this blanket I made a point of sharing, maybe beginners won't do well right away, but for those who are at an intermediate level I believe they can already put it into practice!
It is a blanket rich in details, you may have to be more patient when making it, but it is certainly a blanket that when you see the result you see that everything was worth it and this feeling is wonderful!
We didn't get its free version either, but I guarantee it's a good investment, after all, it's a standard that none of your friends or family will have.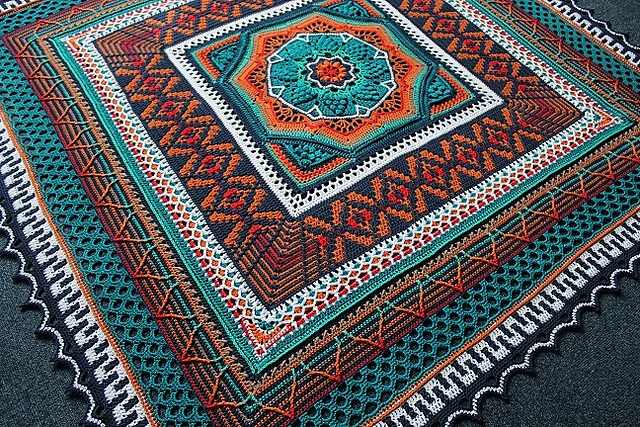 Well, I hope you liked today's inspirations and that you enjoy them very much. I'm sure everyone will like them just as much as we do!
We are very happy to have shared incredible patterns with you this year, maybe the next one will only come next year, in case it happens, we wish you a Merry Christmas and a happy new year, that all your wishes and dreams come true and that it can be an end of the year of many celebrations, with friends and family around!
SEE TOO – Three Incredible Blankets Patterns