Hello everyone! How are you? I hope you spent the end of the year well, celebrating a lot with your families and friends! We had a lot of fun and took a little vacation to rest and prepare amazing contents for you, I'm sure that 2023 will be an amazing year full of inspirations that we can share with you!
Today the article is special for cat lovers! And I know you have many… I also like cats but I don't have any due to my allergies, but I have to confess that they are very cute and love a cuddle. The truth is that cat prints and drawings have become something viral, and crocheting would be no different. So we've separated some designs for you to get inspired, they are different models that I'm sure you'll like!
Purrrfect Play Rug
The first pattern I separated was this beautiful cat rug, inspired by baby room rugs, they are very cute and you can make them as big as you want and use colored threads, according to the colors of the room to match.
I love this pattern and already feel like making one, but I don't have children yet, so I can't imagine another place that I could put this rug, maybe in the bathroom if I made a small version… But how do you like it?
Kittens and Puppies for Sale Pillows
This pattern I found incredible! Although the version I brought is for pillow covers, you can easily adapt it for blankets, rugs, whatever you want, the important thing is to have several printed cats!
Still on the pattern we saw that it is totally adaptable for dog lovers, just make the ears more rounded. The complete pattern you can see on the link. I found this pattern irresistible, maybe my favorite, what do you guys think?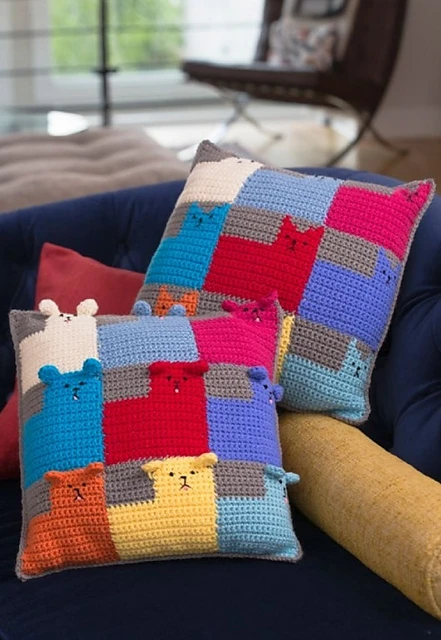 Many Cats Square
Basically we have the same idea as the previous pattern, but these cats are more in high relief, giving more room for color abuse. I simply love this pattern, I found it very creative. Can you imagine these pillows in the children's room? I am sure they would love it! And for sure this pattern is a trigger for cat lovers!!
This pattern is unfortunately not available in the free version, but if you really love this pattern it is worth the investment.
Cat Butt Coasters
The last pattern I brought here is also a cutie and I already want to make it! They are cup holders, easy to make patterns, and I believe it's also quick. When I saw this pattern it already came to my mind an excellent option to give as a gift, it doesn't use much material, being cheaper and also it won't take too much of your time to prepare that special surprise for that person you know you love! I love the idea, don't you? What do you think about putting it into practice?
Did you like the inspirations, guys? Comment and leave in the comments what you thought and share with your family and friends, we are happy when you can really put into practice our pattern inspirations here.
We also like it when you give us your opinion about what you want to see here. Oh, and don't forget to subscribe to our site to receive pattern news by e-mail.
May you have an amazing year blessed by God. And you who visit us here for the first time, be very welcome and I hope you have added to your journey as a crafter!
Hugs and kisses, see you guys next time! XoXo.
SEE TOO – Three Most Wanted Patterns 2022