Three Incredible Blankets Patterns
Hello everyone, today I came to share with you patterns of blankets for you to inspire yourself. The patterns are beautiful but not so simple to make, so we are challenging you to go up a level so you can become more and more expert at crocheting.
The patterns are also great options for you to make as a gift, who knows. The Christmas season is coming, and with it awakens the generosity that is within our hearts, so exercise your talent in crochet, and make that special gift for people who are also special in your life!
Ubuntu Scheepjes CAL 2018
"The word Ubuntu in a Nguni Bantu term means "humanity in relation to others" or "I am because we are". The creator of this design wanted to put meaning into the blanket and worked on it for over two years, we have to give it its due! The pattern is characterized by its hexagonal shape and developed in three sizes, each size with a different type of thread, so you can put it into practice according to your taste or need.
Small Set: The kit contains Cotton 8.
The resulting blanket measures 120 cm (long diagonal) x 104 cm (short diagonal) x 60 cm (sides)
Medium set: The kit contains Stone Washed. The resulting blanket will measure 151 cm (long diagonal) x 131 cm (short diagonal) x 75.5 cm (sides)
Large Set: The kit contains Stonewashed XL and River Washed XL. The resulting blanket will measure 192 cm (long diagonal) x 167 cm (short diagonal) x 96 cm (sides).
Colorful Polka Dots Baby Blanket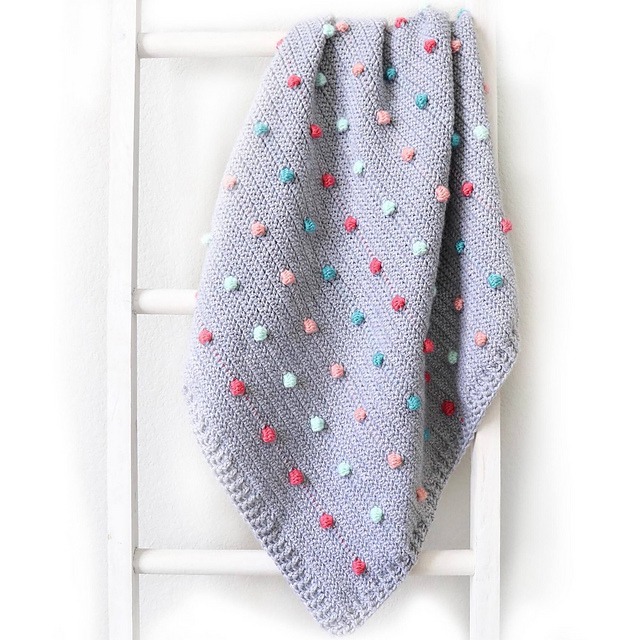 The second pattern I've come to share is that blanket that is perfect for you to make for your small children, or even as a gift for a nephew or niece, godchildren, or any child in the family.
Unlike the first, this baby blanket with colored polka dots contains an easy to make pattern, containing both single and double crochet stitches. A great choice of yarn is Bernat Softee Baby, which is soft, combed weight, much easier to care for, and more comfortable for babies.
I particularly found the blanket very cute, a must have if you have children at home. And you can be creative with the colors. The original pattern shows us colored polka dots, but you can make a rainbow effect, or a gradient. Even monochrome would look beautiful!
Beachcombing Blanket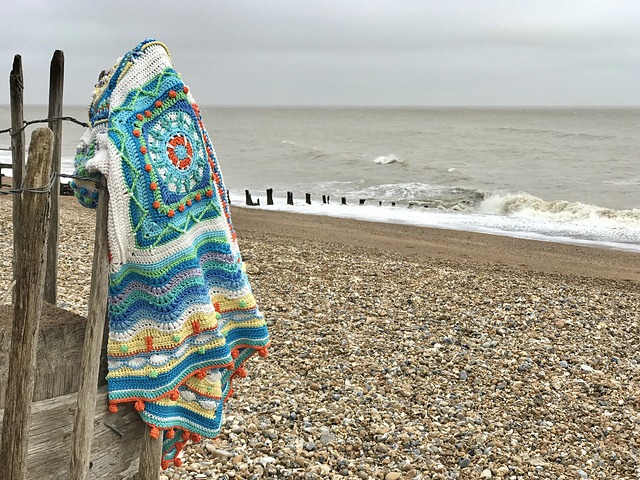 This beautiful beach blanket crochet pattern is sure to be a hit with everyone! It's perfect for snuggling up on the couch with a good book.
It is definitely one of the most cheerful blankets I have ever seen, I would definitely have one at home, it would go outside on a lounger or wooden bench, I think it would match.
With the final result of the blanket, we can see a more complex crochet to learn, but its construction is made of squares, so don't despair, do it calmly, everything will work out and the result will be amazing!
I have been working on the same beach crochet blanket for over a year. I originally saw it on Pinterest and just fell in love with it. It is crocheted in a shell stitch and I really love the way it looks. I had a lot of trouble finding the right pattern for it. I eventually found one on Pinterest, but it was in a different language. I was able to find an English version of it and I have been working on it ever since. I am almost done with it and I can't wait to see it finished. I think it is going to be a really beautiful blanket.
This pattern has certainly become one of my favorites and you can't miss adding it to your list!
Well, I hope you have enjoyed these options, they are all incredible and beautiful, choose your favorite and start putting them into practice today! Don't forget to share this article with friends and family, we love to be recommended, and if you have any suggestions, comment here! Kisses and see you next time!
SEE TOO – Caron Half & Half Crochet Cardigan