Summer Garden Granny Square Pattern
It's always a privilege to share patterns with you around here, I'm really excited and flattered by it. Apart from the joy of sharing, in addition to all that when I see the comments and visits here on Patterns Here, because of that, it motivates me to continue and makes everything even more sense. All the time invested, dedication become even better with this opportunity. And obviously it couldn't be different today, sharing a crochet pattern that will inspire, motivate and surprise you that is simply wonderful!
The Granny Square style is undoubtedly one of the most popular in the world, not only because of its format, but also because of the infinite possibilities it allows. It is perfect in bags, blouses, blankets, rugs and so many other options, this undoubtedly ends up motivating people even more when choosing this style to dedicate themselves to learning and developing. I particularly love him. I think it manages to combine with everything in an incredible way, that's fantastic. And nothing different from what we have here, today the style is Granny Square, but it's the Summer Garden model, an incredible pattern developed by Lucy of Attic24 and it's extremely popular on the internet.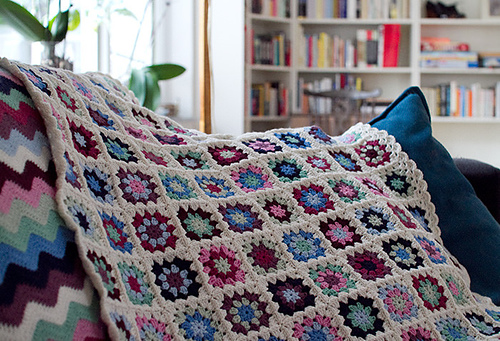 It reminds me a lot of the Flowers in the Snow style that we have here too and you can access it by visiting our crochet blankets category just above, not just this model, but so many other models you can find there and I'm sure it will motivate you and inspire. We try our best to bring you exclusive, inspiring and fantastic content. But when it comes to Summer Garden, it has some particularities that enchanted me and that's why I made a point of bringing it to all of us. The idea of ​​the pattern is never just that you copy it and make it exactly, the ideal is that it inspires you to make a model that you seek or think about.
And when we take this pattern, the idea is exactly that. Of course we have and we make a point of bringing models to inspire you, whether by colors, or by the style and shape of the blanket or anything else, but more than that, the pattern will teach you how to make the granny square in this style of Summer Garden. This may require even greater creativity and a basic knowledge of crocheting from you, I like to share and say this so that the person is already prepared and programmed in this sense. Another point worth mentioning is the fact that we strongly recommend that you read the entire pattern first, follow the entire tutorial, see the particularities, see the points of attention, and then proceed.
It is also worth doing some test models, before picking up and making a final model of what you want. This prevents you from wasting your most precious asset, which is time, as well as money on lines that you know are worth. I think these are some tips that I always like to bring so you don't waste time. Anyway, this blanket is amazing and will be able to supply you well in the needs. I really hope you enjoy it, have fun producing and that you can enjoy every moment. Ah, if you look for other models on the internet of the Summer Garden Granny Square itself, I'm sure you'll find it to inspire you, so stay with this tip too.
We are very happy to welcome you here at Patterns Here, if you like our content, the patterns we have here for free and different styles, share it with your friends, with your family members who, like us, are passionate about crochet. So that's all folks, until next time. A big kiss, xoxo!