The Best Colored Quilt Models
I've always been looking to find colorful models to be producing, whatever category you can imagine. That's because I'm really passionate about colors, I think they have a power to bring life, to bring joy and even transmit feelings that we have in our hearts and sometimes we can't express.
So when I put together the best colored quilt designs to share here, it's something I'm not just doing to show you some colorful designs that are beautiful and worth making, but it's something I'm doing looking for you to understand how amazing the colorful models and the power they have in the environment and for our lives. I really hope you enter this journey with me, appreciating and enjoying each model that I have separated here.
Double Dresden Delight Quilt
It would be very unfair of me to say that they are the best role models ever, but honestly they are one of the best for sure. Fortunately, all that I have separated are completely free for you to access easily and smoothly. I emphasize that it is a huge privilege to be doing this here and that you can have fun in this journey of the best colored quilts. Are you prepared? So let's go!
To start today's list, I've put together for you an amazing model that is just perfect. The Double Dresden Delight is a model that has a special touch, managing to form styles of flowers and the most amazing thing is that it is made in the shape of ties. Isn't it just amazing? I confess that I had seen several models using these styles of cuts in fabrics, but few managed to use so exemplary and incredible as this model. I hope you like it and know that you will have a lot of fun doing it.
Rose Star Quilt
The Rose Star quilt is everything I love in a single model: colors, many colors, various fabric prints, rose shape, impeccable details and made with a lot of love. This model is perfect for you to decorate an environment, perfect to use on the bed, perfect to use as a tablecloth, in short, the options are so many that there are even words to describe it. I really loved this model, I was very happy with it and I'm sure you'll have fun producing it. So, good luck!
Fire 3D Dudes Quilt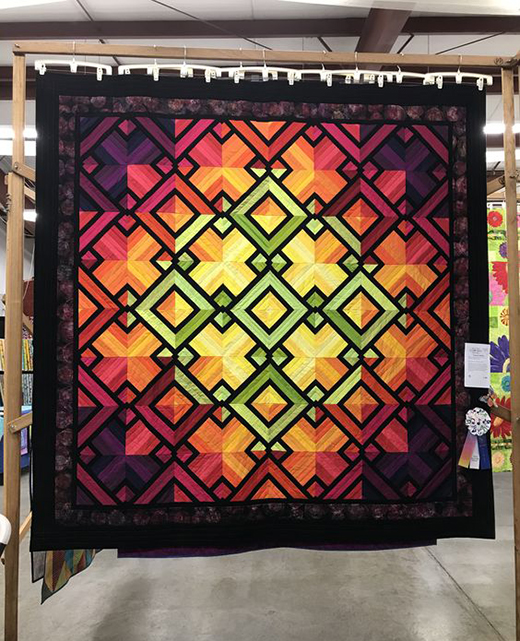 This is perhaps the least colored model on the list, but that doesn't mean it's not colored right? It's just that we naturally connect colors with flashy colors and colors that end up standing out too much. But the truth is that Fire 3D Dudes has many colors in similar tones and that it has an impressive and perfect contrast. You won't regret it if you decide to produce this model, here's my tip so this model will surprise you! Good luck.
Twinkling Stars Quilt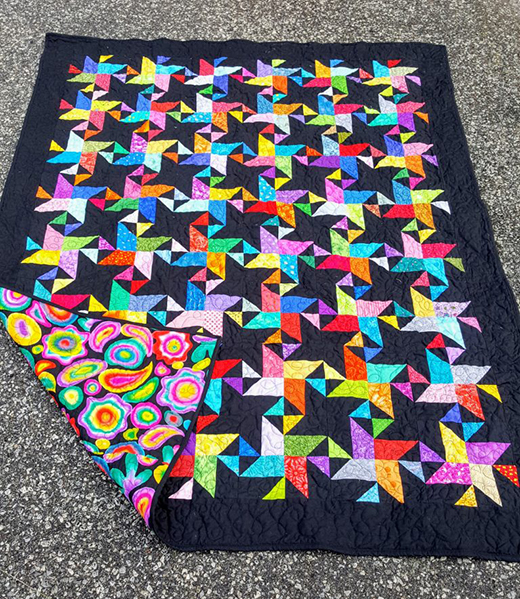 If you're new here you don't know this, but the truth is that I'm in love with models that have black backgrounds and lots of colors on them. The highlight it brings, contrasting the colors so well and the effect it has on the environment for me is something unique and incomparable. I know there are many models that have this, but the Twinkling Stars Quilt is a perfect model that manages to have an ideal front and back, being awesome. And the best thing is that regardless of the side chosen, it is perfect. I loved this model. Hope you feel the same as I do, so good luck!
Pinwheel Frolic Quilt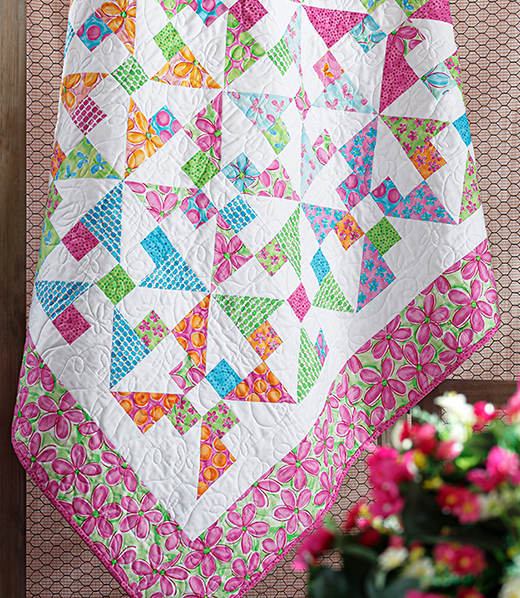 The Pinwheel Frolic Quilt is a traditional quilt model that has many colors, many prints, an incredible and incomparable stitching, and besides all that, it has the very traditional prints of models that used to have a lot of strength. I love the more traditional models, I also love how the models evolved over time. It's fun for you to look and see the evolution, but I really needed to bring this model for you to see and enjoy. It's perfect and you'll love producing it. Good luck my friend!
Infinity Quilt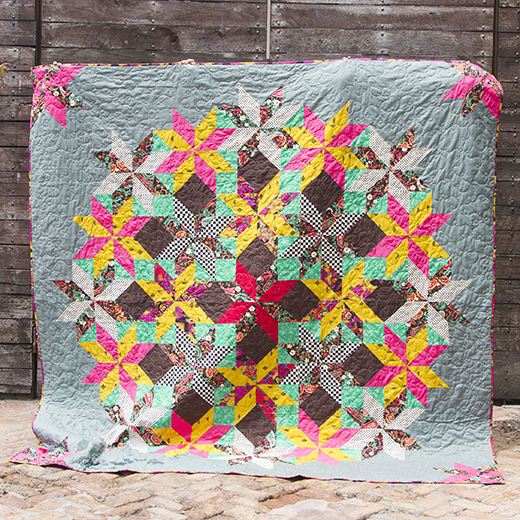 When I saw the Infinity Quilt I naturally had an insight into the infinite color possibilities it allows, I swear the "infinite possibilities" was not deliberate. But the truth is that I really love the fact that I see some models that manage to convey that freedom to put on the colors you want, to put on the fabrics you want. Realize that this model is exactly that. With an untraditional color background, it allows you and me the freedom to choose exactly what we want. Isn't that perfect? If you are producing a model like this, you feel very comfortable and I hope you have real fun doing it. Here is my good luck to you!
Next Move Quilt
The Next Move Quilt was initially a model that I looked at and thought "what a mess". But I loved it. I know maybe you think I'm crazy, but the truth is, this messy model has nothing. Even having several prints, different colors and looking like it's just randomly distributed, see that it's completely intentional. This is very amazing because models that have many possibilities of fabrics and colors like this one, gives you the freedom to just use the sample pattern and produce with the fabrics/colors you want. So, good luck!
Confetti Cottons Colossal Blocks Quilt
A traditional 3D effect apparently isn't it? But the Confetti Cottons Colossal Blocks is amazing and made me see how beautiful this model is. The details of the seams do not go unnoticed because only the colors stand out and draw a lot of attention, anyone who loves quilts and a job well done will understand. My eyes fixed on the super well done sewing and with that made the colors stay in the background, by the way, they were very well selected colors and that it has an incredible effect on the model too. So here's another tip of an amazing color model to produce, good luck!
Modern Melody Basics Quilt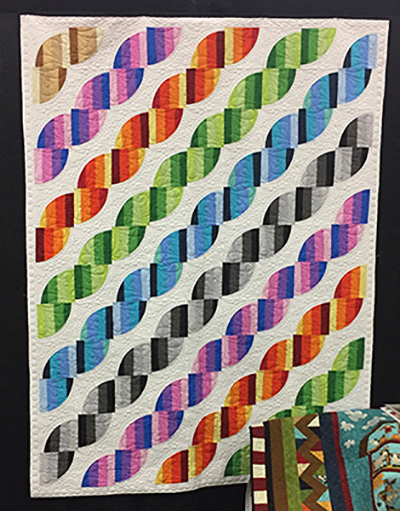 A model that actually looks like a colored rope is amazing and perfect. The Modern Melody Basics Quilt is exactly this feeling that it caused in me, a colored rope. Seemingly so simple, but so amazing it shows you and me that it doesn't take much to make a model beautiful, make a model beautiful or even flashy, right? Any model that manages to transmit colors and fabrics well, deserves to be highlighted. And that's what this model represents for me: a very, very well made model. So, good luck!
As a good Coldplay fan it's unavoidable not to have looked at this model and not to have remembered the band's albums. I know that maybe you don't understand anything I'm talking about, but the Cadence quilt is such an amazing model, well distributed in colors, well distributed in the prints, making the pink shapes so well that it made me travel. I loved. Honestly, this list is the top 1 fired. It's a model that you won't regret producing and will have an incredible result in your hands, so I wish you all the luck in the production.
These were the best colored quilt designs I brought you today, I hope you like it. I've been enjoying and having a lot of fun producing some posts for you in this format, it's something I've noticed that many people are enjoying and always leave feedback through the contact me above, feel free to always leave your suggestion too, it's a pleasure for me without proceeding welcomes you here. Come back more often and that's it for today, xoxo!