The Bests Crochet Dresses Part One
I can't contain the joy I'm in being able to share this post with you because it refers to my favorite crochet category and I managed to separate amazing models to bring here on Patterns Here from the best crochet dresses and which are completely free, you will. fall in love with each model that I separated. Although it seems simple and very practical to bring models like this for you, I must confess that it is very difficult to define what are actually the best crochet models to share with you.
Of course I'm not silly or anything, I ended up separating these publications into parts and the first part is this one where I brought you seven amazing models of crochet dresses. I hope you are ready to be enchanted with each one of them. I liked the fact that I was able to separate models for both special occasions and commemorative dates, but also models perfect for everyday life and even for all seasons. So I invite you now to join me in this journey and be enchanted with all these models that I have separated here, are you ready? So let's go!
Audrey Dress Crochet
The first model on our list is the Audrey Dress, a very popular model and if you've been in the crochet business for a while, you'll know that I'm telling the truth. It is a simply charming model that will make you fall in love with it. Aside from having this lovely child with what we can say turns out to be a dress to go out with her mother in the same outfits, perfect isn't it? I loved it. The best part is that there are several other colors and that it is perfect to inspire whoever is going to produce. My tip is to have a lot of fun doing it and know that in the end, you will have an incredible result that will make you feel powerful! So as you already know, good luck in the production!
Beach Waves Crochet
With a very suggestive name, Beach Waves is a perfect dress for those intense summer days. Of course it looks amazing in the pool, on the beach and that is undeniable, because it was precisely for these situations that it was produced, but one thing is certain, it is perfect for summer days and allows you to use it on those days of intense heat. So here's our tip. In the pattern itself there are other models made with other beautiful and incredible colors, you will love it! Anyway, good luck!
Sea Breeze Cover Up Crochet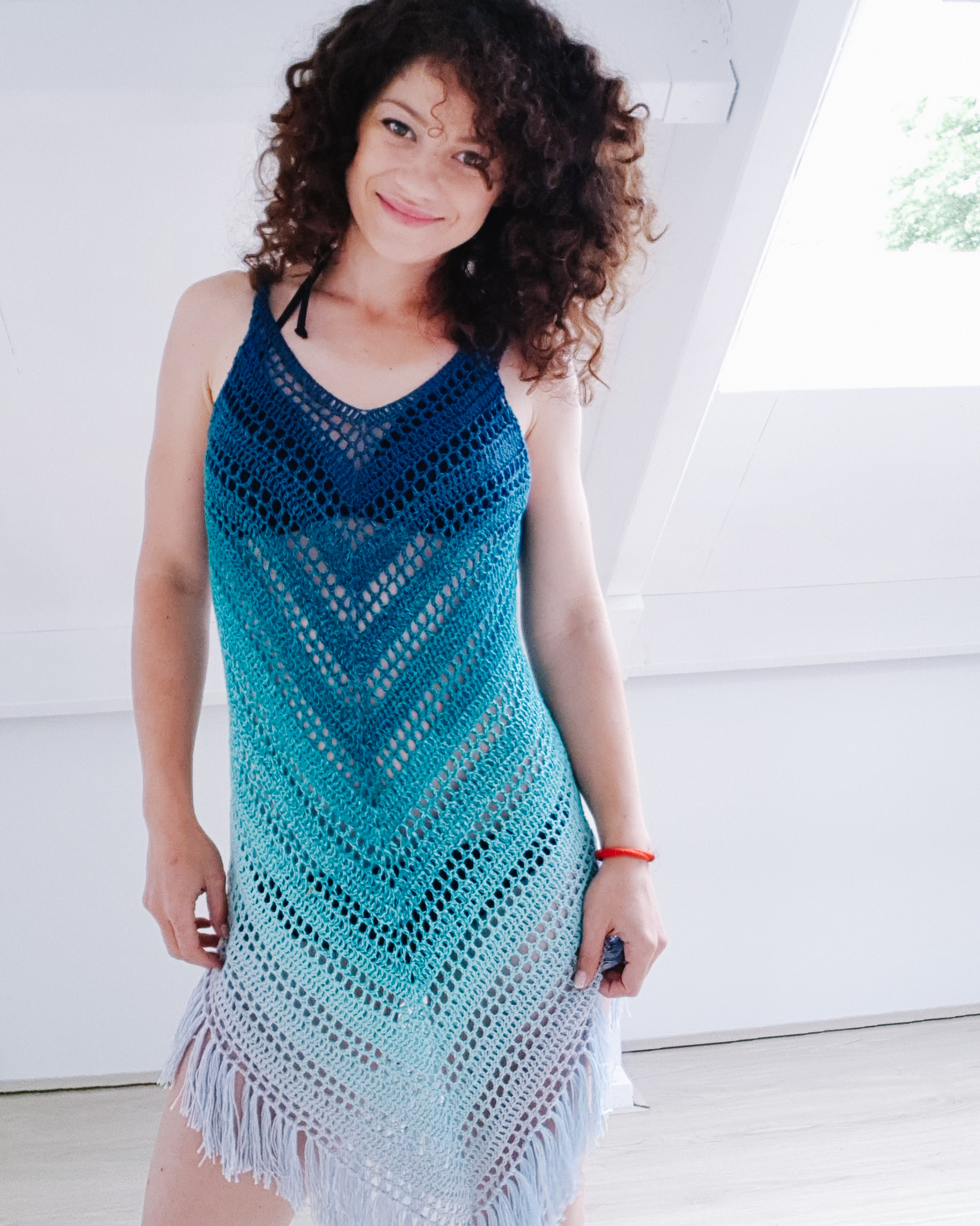 With a perfect contrast of colors, a wonderful effect and dots that make Sea Breeze Cover Up perfect for those days at the pool and beach. This model is very exclusive for these moments even for all the way it was produced with wide open stitches. But what I really loved was the contrast of the colors that were very well chosen. It's a model that can inspire you a lot and teach you new techniques in production, believe it or not, you'll be surprised with it. So, good luck!
High-low Hemmed Medalions Dress
A more traditional design and more for special occasions, the High-low Hemmed Medalions is perfect for weddings, anniversaries, christenings and more. It is perfect for those occasions that demand from us a more traditional and elegant outfit, so if that's your case you're looking for, you've just found it and you'll love making it. The colors used in this model, I confess, didn't enchant me, but the stitches and how it was made enchanted me a lot, but then it's a matter of personal taste, isn't it? Anyway, do it and you'll have an amazing piece in your wardrobe. Good luck!
Making Waves Crochet
I don't know if I can say that any of these are my favorites when I separate models as amazing as all the ones listed here, but this Making Waves dress makes me feel different, LOL. It is perfect in its creation, well produced and with a wonderful effect in the colors the way it was made. I really loved it. I found it extremely elegant, it goes perfectly with casual days, it goes perfectly with a day that needs to go to church or even the mall, you won't regret it. It's very useful and I love useful items in the wardrobe. You already know right? Good luck!
Candice Dress Crochet
A model that is ideal for seasons like autumn and early winter, as long as you wear pantyhose underneath, obviously, Candice Dress is perfect. You will be impressed by it and producing it will have fun. I loved the color used in this model above, loved the fact that it manages to be useful in more formal settings as well as more casual settings and it will surprise you, believe it or not, but you're going to rock wearing a dress like that. My goal here is to inspire you and I'm sure this model will do that to you, so good luck producing!
Dress for All Seasons Crochet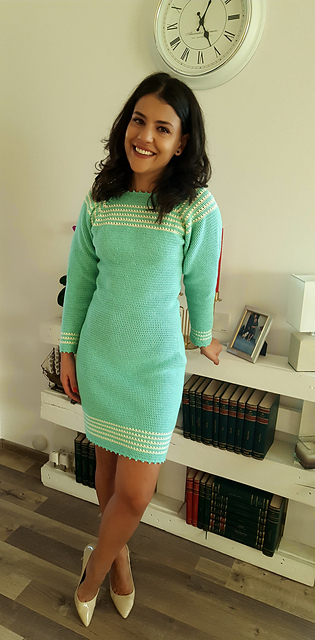 Okay, I confess I have a favorite on this entire list and that's mine. Dress for All Seasons made me fall in love and maybe it's the color, maybe it's the point, maybe it's the style that it was produced, but I really do have this model as my favorite. It is really ideal for any season, but not only that, it manages to be perfect for any situation and occasion. You will love wearing it, besides being beautiful, it is extremely comfortable, as long as you use good lines, but the truth is that it is comfortable, bringing an even greater elegance to the wearer. If you choose this model to produce you know you won't regret it, so good luck producing it, you made a beautiful choice!
This was part one of the best crochet dresses I put together to bring you today, I hope you enjoyed the content. I'm looking forward to bringing the sequels in a next post, I'm sure you'll love and have fun with every amazing model out there. Invite your friends to get to know Patterns Here, it helps me a lot, as well as motivating me to continue sharing with you the other models around here. But tell me, which model on this list caught your attention the most? I will love to know! Xoxo!