Liberty Legacy Block Quilt Pattern
Hello lovers of quilt and the most varied styles and models, how are you? Welcome to Patterns Here where you find your pattern and where the goal is to be a virtual library of the most amazing patterns, if it's your first time here, be very welcome and feel at home. I really hope you like today's pattern, it will definitely surprise you and make you have a lot of fun producing it. So let's go?
The Liberty Legacy Block is today's pattern and as always I'm really excited to bring it to you, not least because it's a block model and I'm a big fan of it. You can see this by visiting the site, the models in blocks are perhaps the most useful that will provide you and help you to grow a lot technically and grow a lot with quality. I've said it a few times here, but the block is amazing because it can be used the way you want and the way you want. And let's face it, imagine you produce the model you want with this incredible block? The model will simply be impeccable!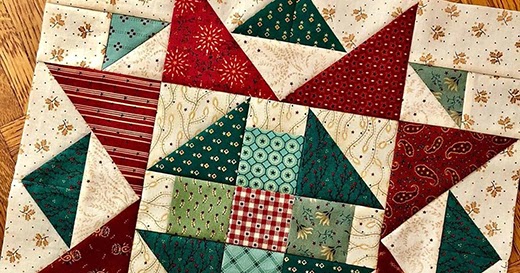 Besides that with the end of the year coming, this model brought a lot to my memory a style very close to Christmas and is perfect for decoration. Of course this is very particular, but if you are going to produce exactly this pattern you already have an idea to produce to decorate for an amazing Christmas and leave the house decorated. I don't know if you are in the habit of decorating the house for these special dates, but the quilt patterns have an incredible power to decorate the room well and I'm sure it will bring an incredible style and charm to the house. Remembering that this is just an idea I had when I came across this pattern so I decided to share it here.
Liberty Legacy Block is a pattern that has 20 fabrics in its production, believe it or not. This surprised me a lot because if we stop to analyze when we look at a block model, it's even difficult to imagine that there are 20 types of fabrics in it, isn't it? This shows that the models are increasingly being worked on and are always in constant evolution. Which shows how important it is for us to be constantly evolving with knowledge and techniques, because some models will require us to have deeper knowledge. The pattern is also Finished Quilt Size: 701/2″ x 701/2″, I like to share this information because it helps you a lot with ideas before I go out producing.
I hope you enjoy every part of the production of this model a lot, it is well explained and has numerous details that are worth paying close attention to. I emphasize the importance of being very attentive and very focused at the time of production, because this will help you a lot. A tip I give is to read the entire pattern before starting production, because that will help you and when we read the entire pattern before starting, we can better prepare ourselves to be able to produce. So that's it guys, enjoy this block pattern a lot, enjoy every moment in its production and don't get discouraged. With a lot of focus, attention and willingness, you will certainly be able to produce an incredible pattern. If you liked Patterns Here, share the site with your friends and family who love crochet and quilt, here you have several amazing patterns and I always bring news. Until next time guys, see you soon. Xoxo!