Study of Geometry Crochet Pattern
It's amazing how the crochet quilts get a standout isn't it? Particularly speaking I find all of them amazing. Even because they end up getting into that scenario of being very helpful and I love that. By the way, welcome to Patterns Here, if it's your first time feel at home and I hope you like the patterns we have so far. I always bring news for you, I hope you like it and today will be no different, an amazing and very private blanket.
I agree that all patterns have their particularities and make them unique and special, but this one in particular has something very different and its shape mixed with its colors won me over, even making me bring it here for you and share. Study of Geometry Crochet is a very particular model, because we're talking about studies and geometry mixed with crochet, tell the truth, isn't it crazy to imagine these three things together and still look amazing? It's exactly what this model proposes to do and I'm sure that if you choose deneolvelo you won't regret it.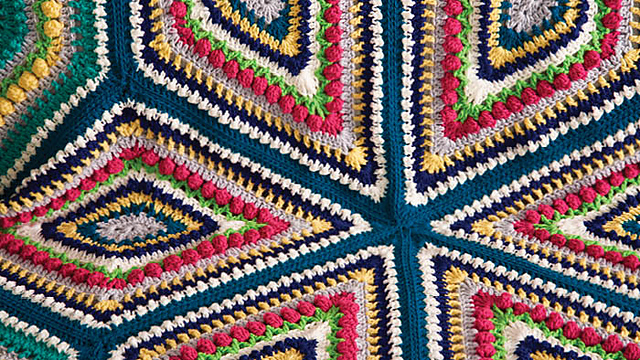 Despite being very different, it doesn't deviate much from what we are used to on a daily basis. Of course, if you already have experience in the field. That's why I emphasize the importance of always studying, getting to know new ways, new styles of producing models. This is very worthwhile and helps a lot when other patterns like this arrive, and you want to produce without any major problems. Particularly speaking, the fact that I'm always here sharing these patterns makes me familiar with different styles, but of course it makes a difference as long as you're open-minded. I love to learn more and more, and crochet is an infinite universe of knowledge that will never satisfy us if you want to learn more and more.
Study of Geometry has a very unique style, in it you will use 8 different colors, of course it will depend on your taste and what you want, but this pattern exclusively has this amount. I emphasize that they are different colors and different yarns too, right? You can see that it has some effects and details that require the yarns to be different in order to stand out. Another point worth noting is that this uniquely completed pattern has the following sizes:
Blanket is 60″ across point to point.
Size U.S. I/9 (5.5 mm) crochet hook or size needed to obtain gauge. Stitch markers
13 sc and 14 rows = 4″ [10 cm].
I like to bring this information in advance because it makes it much easier for those who are going to produce to already have a basic idea of ​​what will be needed, how the finished pattern looks.
The level to produce this pattern is intermediate, so I anticipate that at times it may require a little more knowledge from you. Of course it's also the opportunity to have a deeper and different knowledge of things, but also, it's nothing to stop you from achieving a great result with this pattern. Right? Just pay attention and focus that the end result will definitely be amazing! For the rest, these are the main points that I thought it was worth sharing with you. Use your creativity with a lot of focus, for sure you will have an incredible result. So that's it guys, I hope you like this pattern. Share Patterns Here with your friends and family who love crochet or quilt, and enjoy it a lot. See you next time, xoxo!