Fish Blanket Crochet Pattern
Hello crochet lovers, what a joy to be here once again to share an incredible crocheting blanket, I'm sure this one will make you fall in love and it is especially geared towards children, of course it doesn't stop it from being made for adults. , but you will notice and for sure you have already seen the image that this model is perfect in a child's room. But that's it guys, I hope you like this pattern, enjoy it a lot and enjoy it at the time of production, so shall we?
The Fish pattern is an incredible blanket that will surprise you, I'm sure. You will notice that this model is not a simple crochet blanket that is well made and very beautiful, it is something that will help you and teach you great techniques. Particularly speaking, there are few models that can bring so much knowledge in a single project like this, so the joy of being here sharing it with you. It's amazing the format it is made, and how well done are the details of this model. Realize that this is really important for a model like this, after all, there's no way you can say that you're going to produce a crocheted model in the shape of a fish if it doesn't have the characteristics well done, right?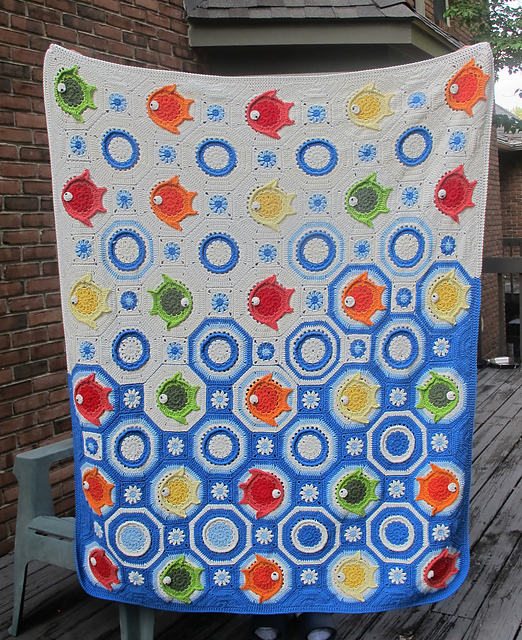 I've been thinking about other colors we could use in this pattern, but it's even difficult after seeing the final model. And look, I'm always around here telling you to innovate and do something that will surprise you. But honestly with a pattern like this well done and that you'll be able to produce with ease, the ability to surprise with new colors, different details ends up coming and going naturally at the time of production. That's why it's important to be attentive and very focused at the time of production, I hope you understand that. You will find that you will learn a lot in the production of the Fish Pattern and will have a lot of fun in the process and at the time of the final result!
This pattern consists of 11 colors and all of them very well described in step by step, in addition to having a link that will direct you to the site you may be buying to produce exactly the same. In addition to mentioning and scoring also the needles you will need and the points you need to have knowledge to be able to produce. I like it when I find patterns like this because it will definitely help a lot of people to learn in a practical and faster way. The step by step is extremely well explained, you will notice that even being in pdf it has images that will contribute a lot to the understanding and thus making it easier for everyone. I like this because some people need images to better understand what they are trying to say and when Susan Pan prepared the material, she did it with great care and affection.
The Fish Pattern Crochet is a perfect model for you who want to make a blanket to decorate the room, put on the bed and even, depending on the way you produce it, use it as a rug for the bedroom. Of course, naturally when we look at blue we relate it to a boy's room, but if you do it in pink it's perfect and just beautiful in a girl's room too. I really hope you like this template as much as I enjoyed sharing it, but if you can share it with your friends and family, Patterns Here would be very happy because it contributes so much to my work! So that's it guys, have a lot of fun in the production, with a lot of joy, focus and see you next time. Xoxo!