Grey's Anatomy Bobble Blanket Crochet Pattern
I need to start off by saying that there is definitely a Grey's Anatomy fan here, and surely you must be as passionate as I am and that's why you're here on Patterns Here, anyway, welcome to the site and I really hope you like it of things around here. I've been sharing a lot of patterns around here to try to inspire you and help you with tips and ideas, so let's go for this amazing template? So let's go!
One of the most popular styles out there are blankets, that's a fact and there's nothing to discuss. But some manage to bring something new, innovative and that's really the challenge I have to share with you new models here. Of course I won't always bring news, but I will definitely always bring patterns that will inspire you. But about the Grey's Anatomy Bobble Blanket Pattern, it's a very fun model to produce and new, I confess I've never seen it before so I'm sure it will be something new for many who visit us daily. That's why I love what I do, because I know that even when it's a very popular pattern, for someone it can be completely new and inspiring.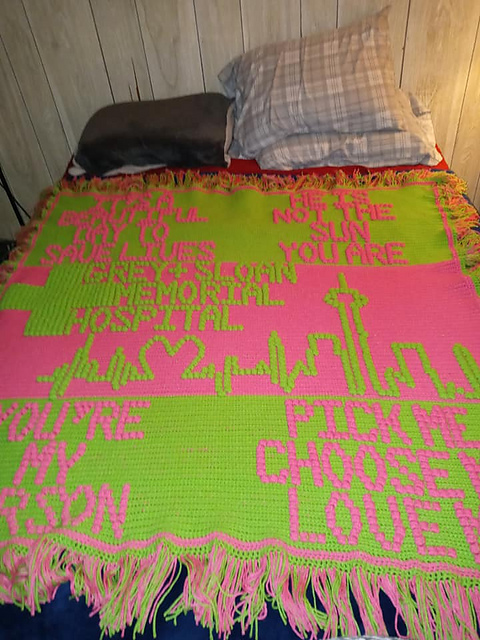 But talking a little about this amazing blanket, it is very exclusive and if you are a fan or know someone who is a fan of Grey's Anatomy it will make total sense to produce. Of course, some things are very particular about this model, for example the colors and the writing format, but I confess that Kathleen Finnigan managed to innovate and bring something very different from everything we are used to and so here is my highlight for a model so amazing. There are some things that are worth highlighting about this model and one of them is that it was produced only for the blanket, and even one of the highlights and reports made by the designer herself is that the pattern does not include a boarder or the fringe.
Another highlight was the production mode she did and what she used to achieve this final result, which was to double crochet in each stitch for my boarder and on strand of each color yarn in each stitch for the fringe. Remember that I'm scoring here because this pattern done, it's a little different from what we're used to and it was done very simply. Of course, in an amazing way and you can understand completely, but simpler than we are used to. I emphasize that it will also be a pattern that will require us a little more experience to produce it, even because of the nomenclatures, the writing. Plus it's going to take even more attention than we're used to, right?
What I always say is that all patterns demand attention and focus from us, that's a fact. But in this model you will notice that it will require you to pay extra attention because the pdf is all written and without images, but rest assured, this will not stop you from producing this incredible model. I am sure! I hope you enjoyed this pattern today, if you're enjoying the content you've found here on Patterns Here, I hope you invite your friends who love crochet, quilt and knitting to visit the site, I'm always bringing new patterns here. So that's it guys, see you guys later and see you next time. Xoxo!