The Bests Free Quilt Models
It's so good for me to be here once again sharing a list of models that I think is amazing and that I believe will really make a difference for you. It's great to know that Patterns Here is serving as an inspiration for many professional designers and also for people who have crafts as a hobby and use it to improve health and many other things in life.
And not different from that, today I brought a list of what I believe to be at least some of the best free quilt models, I'm sure this list will give a lot to talk about and many left this post inspired and motivated to start with one on this list, that not to mention who will make a priority list with today's models to produce. I hope you like this list, I want to make it clear once again that these lists are made by me with models I find surfing the internet and so it's just my personal taste of what I consider the best free models available on the internet today, to inspire and motivate you . Now I have a question to ask: are you ready? Are you really? So let's go!
Twisted Path Quilt
The first model on this list that I consider incredible and very, very beautiful is the Twisted Path Quilt, it's a model that has an incredible effect, a color effect that attracts eyes and still manages to decorate any room very well. I like how the model has this spiral effect and when it joins in the center of the spiral it manages to join the fabrics well and give an even more incredible effect. I'm sure that by producing this model you will learn a lot and still enjoy a beautiful quilt available for free. So, good luck!
Gaggle of Geese Quilt
I'm very suspicious to talk about this model because it is for sure one of my favorites on this list, the Gaggle of Geese quilt is a model that is apparently simple, but very well built. With a perfect effect and that manages to unite the three main pillars for me of a well-made model, being color/fabrics, sewing and shape. He manages to unite these three pillars with such excellence that it makes his production seem easy, isn't it incredible? I really hope that by deciding to produce this model you can be even more inspired to continue in the quilt world, so I wish you all the luck in the world!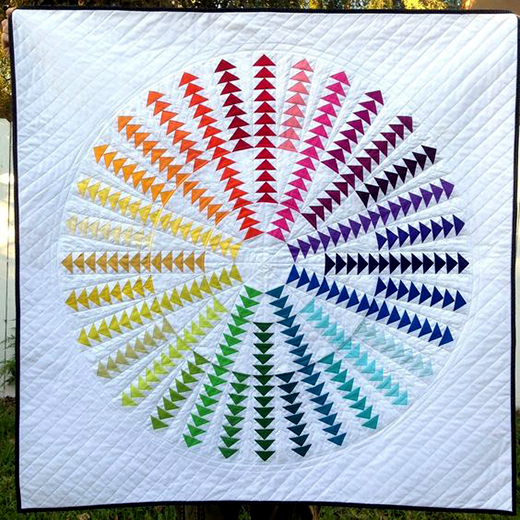 Giant Dahlia Quilt
Probably the best known model on this list is the incredible Giant Dahlia quilt. Talking about this model is like rain in the wet, if you've been in the world of quilt for a longer time, you've certainly seen this model all over the internet, but it never goes out of style. And it's amazing how there are models that mark forever isn't it? Realize that this model no matter how much time has passed, it remains amazing and special. By deciding for it, you will not regret it at all. A tip is that on the internet you can find different styles of colors of this same model, who knows any one that can inspire you? Good luck!
Lotus Blossom Quilt
I confess that this is one of the models that I was not aware of until I started producing this list and it was a very pleasant surprise, making me want to put it here. It's amazing how well it is worked, I love the colors and the contrast between them. I love it when they combine green with purple, I think it's one of the most elegant combinations there is and the sewing with its shape is very well done. It is indeed a beautiful and charming model. I have no doubts that this model will surprise you, so good luck!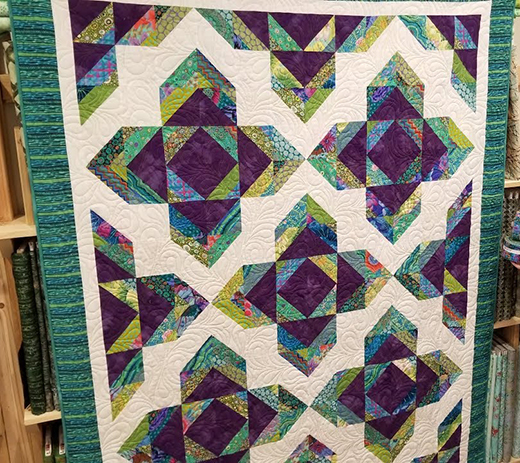 Glorieta Quilt-along
I think you can see that I like purple a lot, right? And green too. That even in the Arise Quilt that I shared and you can see it right here on Patterns Here I've already commented on it. But the truth is that the Glorieta Quilt-along is an old model, but very charming and I usually say that whoever is king never loses his majesty, that is, this model will always be on some list of the best. I couldn't even leave him out here, hope you have fun with him. Good luck!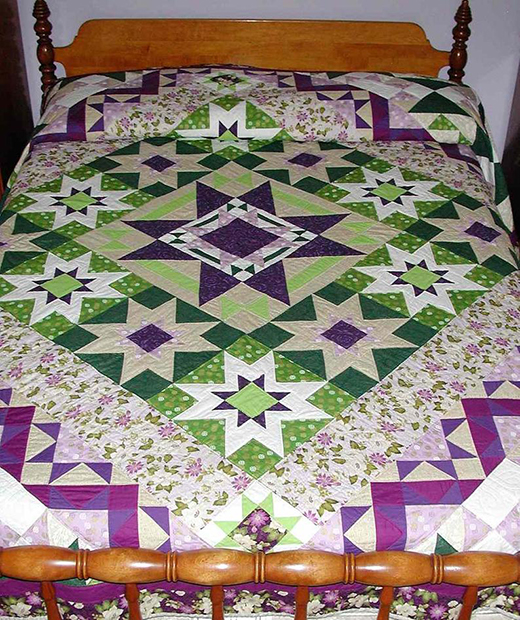 Out the Door Quilt
Although the colors seem somewhat Christmas related, or at least that's what I felt, Out the Door is a model I loved. He has a very amazing idea and that will make your house even more amazing. His idea is nothing less than putting this model hanging on the door outside, so whoever enters has an incredible message. Isn't that awesome? This is normal on doormats, but hanging on the door I confess that this is one of the first times I see it. You will love producing it. I hope that creativity takes care of you in this model and that you have fun, good luck!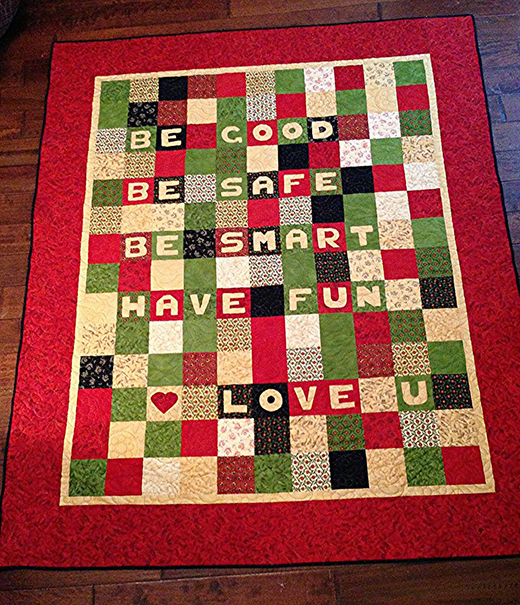 Green Scrappy Mountain Majesties Quilt
To close our list a model so perfect that it deserved even greater success. The Green Scrappy Mountain Majesties is a very charming model, very elegant and that manages to draw attention when well selected colors. I say this because even the pattern colors didn't draw me as much as the one in the image above. In other words, this shows how important it is to select good colors, doesn't it? I hope that creativity takes care of you, that you have fun and that you have an incredible final result, I'm sure you won't regret it. Good luck!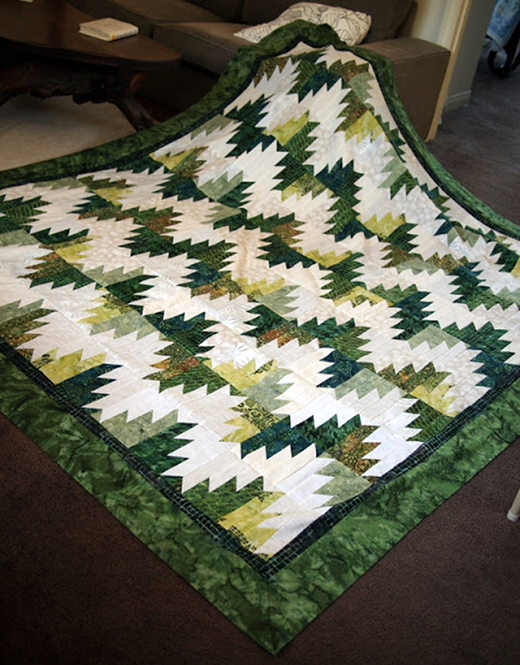 So that's it guys, these were the seven models that I decided to separate and share with you in the list of the best free quilt models I know, but I'll definitely bring this list again in the future with much more news. I hope you like it, have fun and have found an inspiration. I'm happy to have you here and I hope you come back more often, for me it's a pleasure to have you here at Patterns Here. If you want to help me and motivate me to keep sharing here, share the site with your friends and family, it helps a lot! Otherwise, that's it guys. Xoxo!
SEE TOO – Jellied Lone Star Quilt Pattern