That Hexy Puff Blanket Crochet Pattern
Oh my God, stop whatever you're doing right now and admire this simply perfect and wonderfully well made crochet blanket! I'm even speechless and had no idea how to start sharing with you this amazing model that I believe has the pattern completely free and available. Isn't it amazing?
That Hexy is a model that surprised me a lot with the final result, because initially when you take the stitches and stitches apart, without being together, it seems to be just a normal model and nothing different from what I'm used to. But when you take and go a little deeper into these models you realize how amazing a model like this is, how creative Wendi was and how wonderful it was. At least this feeling I get when I look at this incredible model.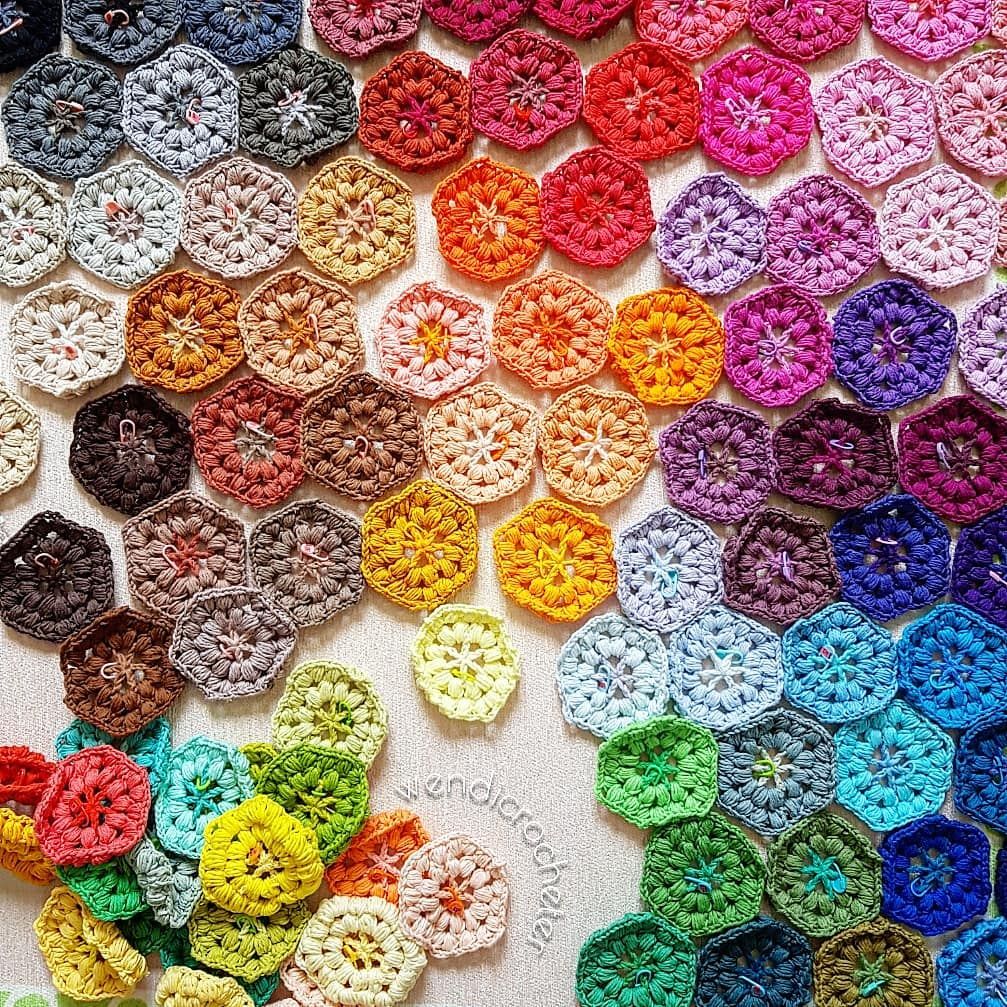 Believe it or not, but the sad part of this model is the fact that the designer stopped sharing her models, at least on the blog, that is for sure sad. But I always like to look at things with a positive outlook and when that happens, it motivates me to continue a model that someone left shared with us, even if maybe in the beginning it didn't have as much repercussion as she hoped and deserved. When there are sites that are able to do exactly what I'm doing here with Patterns Here, sharing patterns with you, it's so gratifying that I can't fail to point this out. Because I know it's not just any sharing, but encouraging and motivating designers to continue with their projects.
If you're here for the first time and are looking to better understand what I've been doing here, basically I'm always sharing crochet, quilt, knitting models, in short, always sharing models that well-known or not-so-known designers produced and had the good will to share your pattern, tutorial, step by step completely free or not always. But they must be valued in any case, and believe me, I do this with so much love that I hope to be able to transmit this in the posts and models that I share here always bringing news and a more incredible model than the other.
What I found cool about That Hexy Puff is the fact that it was inspired by another model, I don't know if you know it, but it's called Scheepjes Cahlista Color pack and because of this model, she was inspired and produced this amazing model. Honestly, I don't have this kind of gift that it's so easy to look at a model, get inspired and get it to visualize something much better or that is similar to the designer. If you have this, my admiration for you is recorded here, but it is something that I know is very exclusive and few have it so easily. I also want to say that being inspired by other models is not copying or plagiarism, it's just the fact that you follow a reference, but of course, with certain limits and in a very ethical way, like Wendi, register this.
I really like the fact that in the world of crafts there is always a natural sharing of the artist, because it is very important to continue what is being produced and made. Realize that even today there are discussions of where certain models came about because some say they are of European origin, others of Asian origin, others of American origin, in short, there are many models that exist. But the incredible thing is that it exists and we have the privilege of using, producing and enjoying it, right? At least that's what I think and that's what motivates me!
Note that this model is not the most difficult, but it is necessary to pay attention to be able to carry out the model correctly and that it achieves the expected result in the end. So be patient, I strongly recommend that you read the pattern to the end before starting it and get your hands dirty, this will definitely help you a lot in the production, believe me. I also hope you make a good use of this amazing model, it's something new and that will surely inspire you to at least produce other models or who knows, that's exactly what you were looking for, right?
I love to talk about sharing and you must have noticed, so share Patterns Here with your acquaintances, it helps me so much that there are no words to thank you. Doing this will make the site grow, but the community of artisans spread out there. I hope you like the model a lot and use its bus, at will. Xoxo!