Hello everyone! How are you? I hope good!
Today I came to share with you a very cool, easy and quick article, which is about the patterns of supports for cups or mugs! I found these patterns interesting, I for example am always needing this kind of thing at home, and never found something nice and pretty, that is presentable also for when I receive visitors at home. So I've separated some patterns for you to get inspired and use your creativity when making them!
This beautiful coffee coaster crochet pattern is easy to follow with clear instructions and detailed photos to guide you through the process. Make your very own set of crocheted coffee coasters! These are perfect for those who love to drink their coffee or tea every morning. They would also make a lovely gift for a friend or family member who loves to drink hot beverages.
Coffee Coaster
 This pattern includes a photo tutorial to help you along the way. Materials: –Size 4.0 mm (G) crochet hook –Worsted weight yarn in desired colors (I used Caron Simply Soft in the colors White, Tan, and Chocolate) –Yarn needle –Scissors Abbreviations: SC – Single Crochet HDC – Half Double Crochet DC – Double Crochet TR – Triple Crochet SL ST – Slip Stitch CH – Chain. More information and the complete pattern can be found in the link below.
Citrus Coaster
This pattern is a little more traditional and very chic! In the original pattern it shows us in citric colors, which I think is really cool, I think bright colors like this in the kitchen give a special touch, reminding us of some fruits. Materials:
-sample is shown in DMC Senso 100% cotton, a discontinued yarn, but any fingering cotton yarn will do. You will need approximately 6 grams per coaster. – 2.75mm(C) crochet hook (I like my coasters to be tightly crocheted. Feel free to change your hook size to match your own taste.) – tapestry needle. More information and the complete pattern can be found in the link below.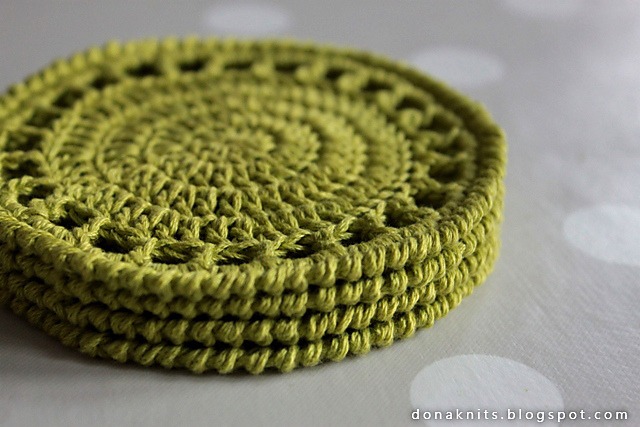 Light Heart Dishcloth
This is for those who are more romantic, is a great decoration option for Valentine's Day, or perhaps dating anniversary or wedding! The pattern teaches us a good size to serve as a support for pots, plates or cups and mugs, so it's up to your preference and need. I particularly loved this pattern, I love everything that is heart-shaped, I find it very cute!
Clean Sweep
This pattern, I first thought was also a sipport for cups and mugs, but when I read it I saw it was actually a cleaning cloth, probably facial. But since our focus here is cup holder patterns, I thought this would easily be an adaptable pattern for what we want!
The shape is nice and the base is straight, so it would easily serve as a stand. From materials we have: H hook (5.0mm). Worsted weight cotton yarn – less than 50 yards . Gauge not important  . Size – approximately 8 inches across.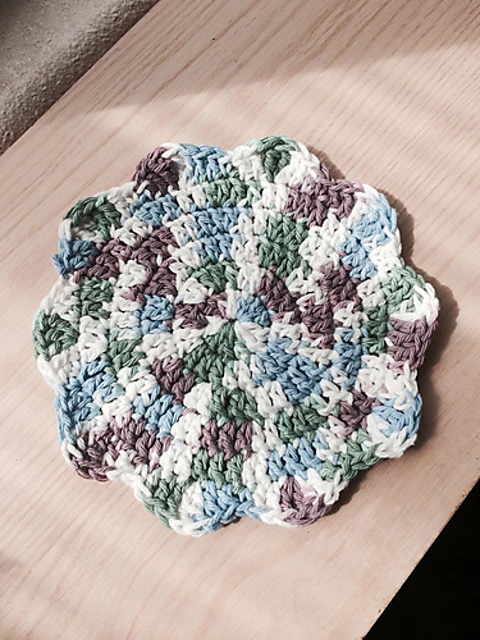 Paw Coaster
This pattern is for pet moms and pet parents for sure! I am a mom of dogs and cats and I already want to make these holders! I love the way it is made and how there are several possibilities, to make it the way you want. Unfortunately I did not find the standard with English audio, but the subtitles are in English and are easy to understand.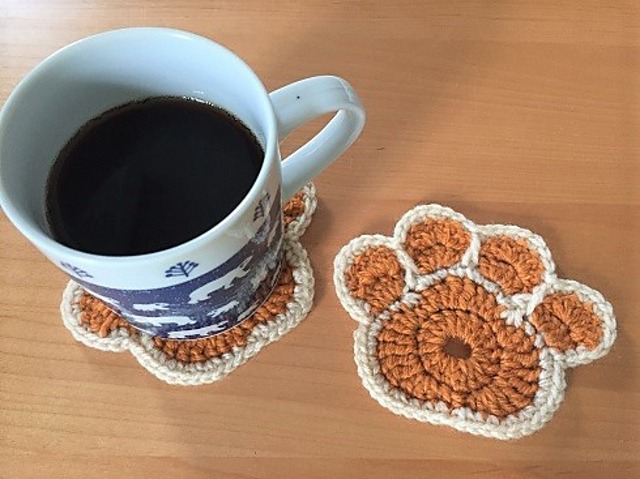 Spring Blooms Coaster
Finally, we have a simpler model that you can't miss. These models are usually more practical and more usual, since they go with everything. In its original version, it is summer based with beautiful colors that you will fall in love with and be inspired by! Also as a tip, use those leftover wires so that there is no waste. Since they are small models, you will usually be able to use the forgotten threads.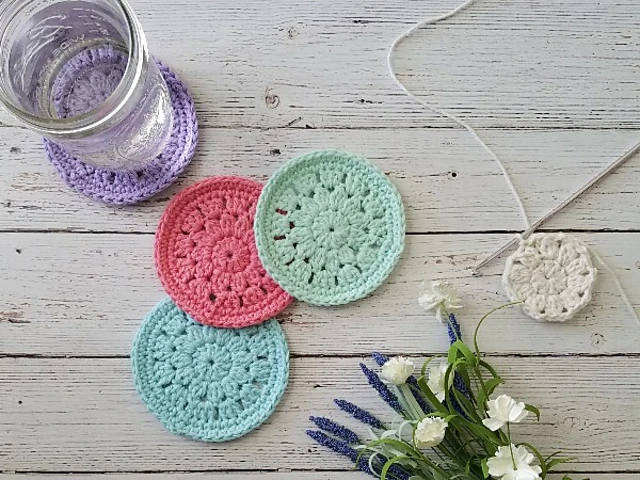 SEE TOO – Ten Amigurumi Patterns to Inspire You