Hello everybody! How nice it is to be back and writing to you! I haven't brought you anything new for a few days, but I was actually preparing my Halloween decorations! Have you done your own? I confess that this year my house became more charming, with a more discreet decoration, I made some table toppers to put on my tables with a pumpkin pattern, they were beautiful! In case you've also done some decoration using our pattern, share it with us, we love to see your creativity!
Today I came to share some patterns that I selected that are incredible and very easy to learn and make to put into practice from now on! So for beginners, enjoy this article, because I'm sure you'll love it! Besides, the patterns have a very modern style of cutouts and designs, they are quilts that you can make to update your home or even prepare a gift for someone. So, get your list ready and check out these incredible patterns that we have separated for you!
Exploding Heart Quilt Pattern
This pattern is for romantics! But also for those who love modern design. Inspired by something more abstract, this deconstructed heart pattern is very beautiful and is being used and researched a lot lately. You can bet on this pattern, because the moment you make it, everyone will be wide open! And as hard as looking at it may seem to be a difficult pattern to make, it really isn't! Of course you will have a little more work to cut out the smaller triangles, but they are not many. But remember! Every detail matters, we have to be patient when making the quilt so that the result is amazing!
Autumn Harvest Quilt Pattern
This pattern is beautiful! With its geometric shape, we can imagine references to small crosses. Unfortunately we could not find a free pattern of this pattern, but I had to share it with you, because it is a quilt that has been very successful and is really easy to make. In its original version we can see solid colors in autumn tones, I find it wonderful and it is something that never goes out of fashion. This is a quilt that is really worth the investment!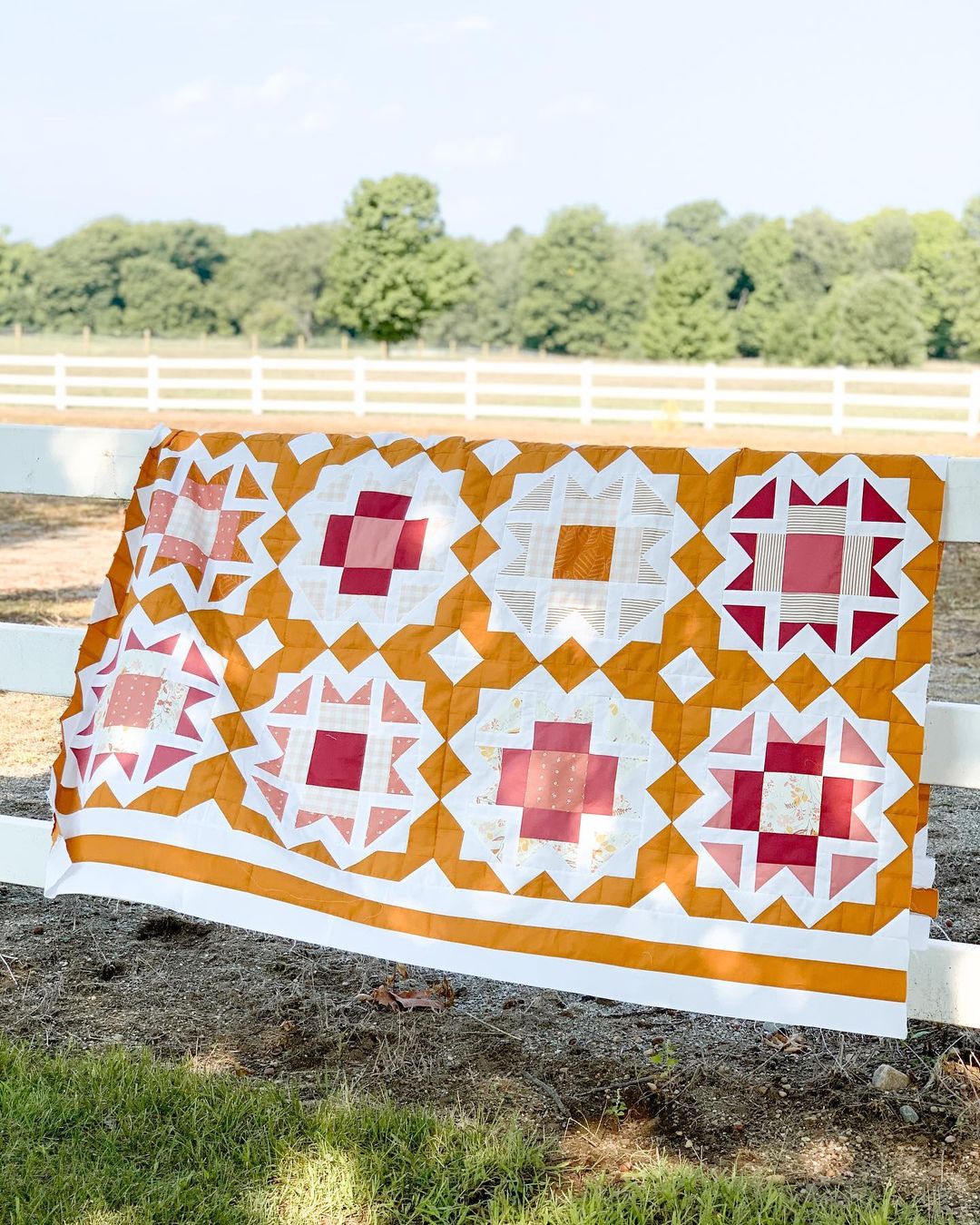 Simple Heart Quilt Pattern
Another heart design pattern, but this one is a bit more simple and minimalist. Easier also to make, it has charmed everyone, because it is a romantic and elegant pattern, perfect also for girls' rooms. The quilt can be made in 7″ blocks, which is why it is so easy to make. It became most famous last Valentine's Day, but the truth is that it is still a success today and I don't think it will ever go out of style. The nice thing about this quilt is that it is totally adaptable to the way you want to make it, for example making borders on each block or changing the size of the hearts, my advice is: FOLLOW YOUR HEART!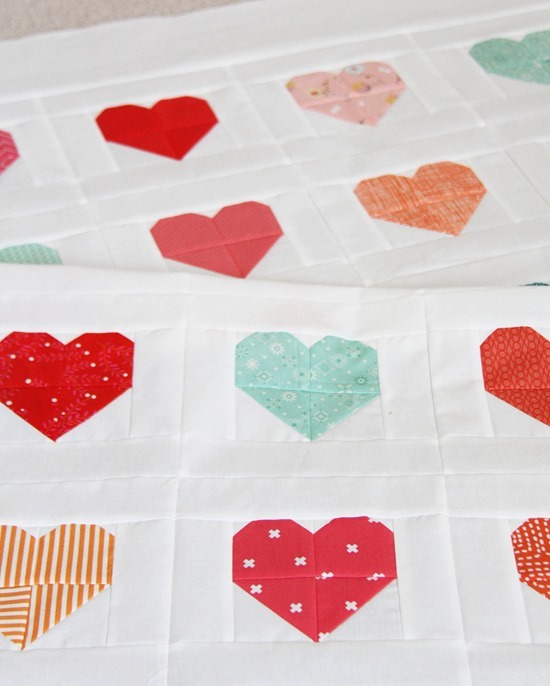 Antique Lace Quilt Pattern
An impeccable design created simply by jenny Doan! If you don't know her, it's worth a look! This pattern actually came from a recreation of a block she once purchased online. Inspired by small weathervanes, this pattern is also something that looks complex to make but is very simple once you get the hang of it. In the video we can see her teaching it in a very didactic way. I always try to share video tutorials, that's how I learned faster, but whenever I find a written pattern that is easy to understand, I post it for you!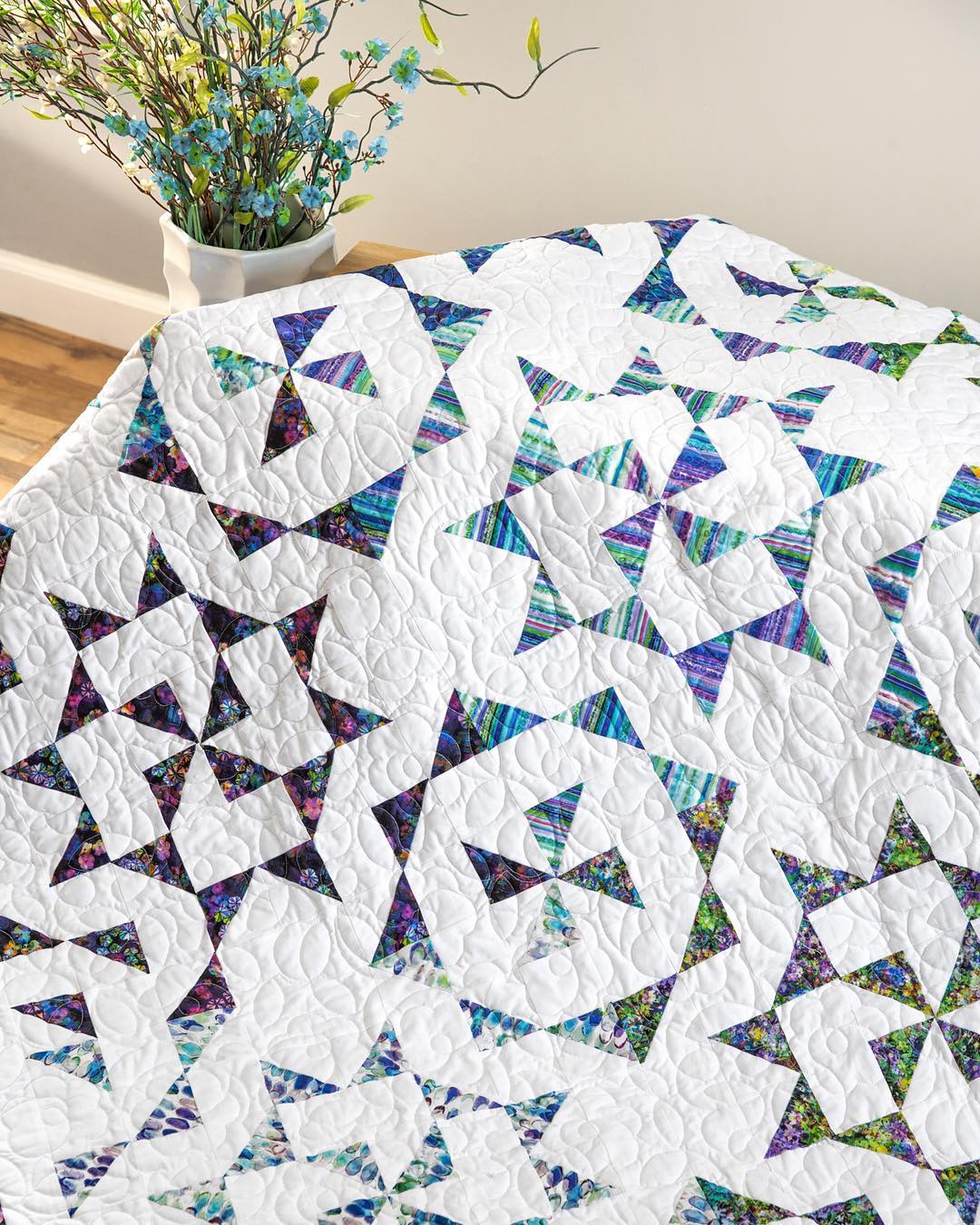 Stargazers Quilt Pattern
Last but not least, this pattern is also taught by Jenny Doan. Basically it has a design of geometric star shapes with a square cutout in the middle, making it even simpler to do. I found this pattern super modern and easy to combine with plain solid fabrics and printed fabrics, a great option to make a quilt for boys' rooms, they usually like this kind of design without getting sick. But of course, it is totally combinable with any room in your house, so get creative!
So that's it folks, I loved sharing these patterns with you, and I hope you liked them too. Any questions or comments write to us, we're always keeping an eye on what you send us! A kiss and see you next time!
SEE TOO – Elephant Abstractions