Hi guys, how nice to be back! Are you all right? I hope so!
Today I came to share with you an even more classic and quite famous pattern, the great creator of this pattern says it was the third large scale project of the abstract versions he created, a quilt inspired by foundation paper scraps is made with a large scale block, impressive and incredible!
In the pattern he says the choice of colors is important, as the pattern calls for something more monochromatic to give the effect of paper scraps. He also shows a chart with the color conversion of Michael Miller Cotton Couture samples and Robert Kaufman Kona samples.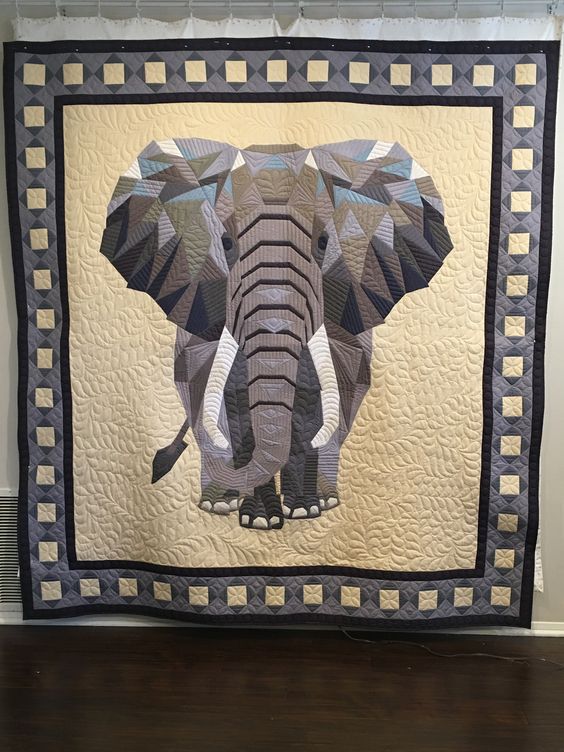 We realize right away that this is an intermediate or even advanced level pattern. This is because an entire measurement is necessary for the drawing of the elephant to be totally symmetrical and to have the effect that the pattern requires.
Now, why did I choose to share this quilt with you? I dreamed these days about an elephant and when I woke up I saw this quilt on a website… Soon I saw that it had some meaning, let's see?
In oriental culture, the elephant has several cool meanings, such as prosperity, peace, strength, and longevity. As you well know, I like to give feeling to all my projects and to everything I share here with you, and this quilt couldn't be different. I find it interesting to start something that makes sense, and my dream about an elephant showed me that I need peace and prosperity for my life, so this quilt will be my new project, and I will love to share it with you when it is ready.
The finished quilt according to the pattern shared, measures exactly 54 "X60". The step by step requires a knowledge of foundation paper piecing. It is still recommended to use solid fabrics with a large color range, so it is good to know that you will have to make an investment before you start, but I promise it will be worth it.
Usually this pattern is used to hang on the wall, as a decoration, and not as an actual quilt, however that doesn't stop you from making a quilt, I think it would look beautiful on top of the bed…
This pattern also reminds me a lot of Indian design, because there they use a lot of the elephant image, and it is very common to find drawings and portraits with this pattern in Indian houses.
To make the Fall Textures version, the pattern shows us a necessary kit being:
yd Manchester Ivory
1/4 yd Kona white
1 yd Kona Cheddar
2/3 yd Essex Ochre
1/3 yd Manchester metallic champagne
1 and 1/4 yd Dusty Rose Essex metallic
2/3 yd Kona Sienna
1/2 yd Manchester Violet
2/3 yd Kona Plum
1/2 yd Kona Bordeaux
1/2 yd Eggplant
2 and 1/4 yd Manchester
You can find more information in the video that teaches how to put this incredible and wonderful pattern into practice. I am sure you will love this challenge as much as I do, and once you get the hang of it it will be fun to do. Use your creativity to choose the colors, the pattern calls for something very colorful, but you can also make this pattern something neutral to match any environment of your house.
Well, I loved sharing this pattern with you, I hope you liked it, leave a comment telling us what you thought and if you had any difficulty. To receive our news first hand, just register on our site. A big kiss to all and see you soon!