Hello friends who love quilt and are here at Patterns Here another amazing pattern, I hope you are ok and if you are here for the first time, I wish you to be very welcome and I want you to feel at ease because my goal in creating the site is precisely about having the opportunity to get closer to people, having you close and thus making the most of it to learn about new patterns with new models as well. So that's it, let's go?
Today's pattern is Colorbrick and it's really cool, even because it was made just for beginners and I like this important detail. Also because I try to bring here on the site the most varied models to precisely satisfy and be able to help all audiences here. From the most experienced and mastering the technique, even to those who decided to venture into this incredible universe of quilt, that's why he is a very cool model. Besides the beauty of it is simply surreal, I loved the details, I loved the way it was produced and I'll share with you below some of the details that caught my attention.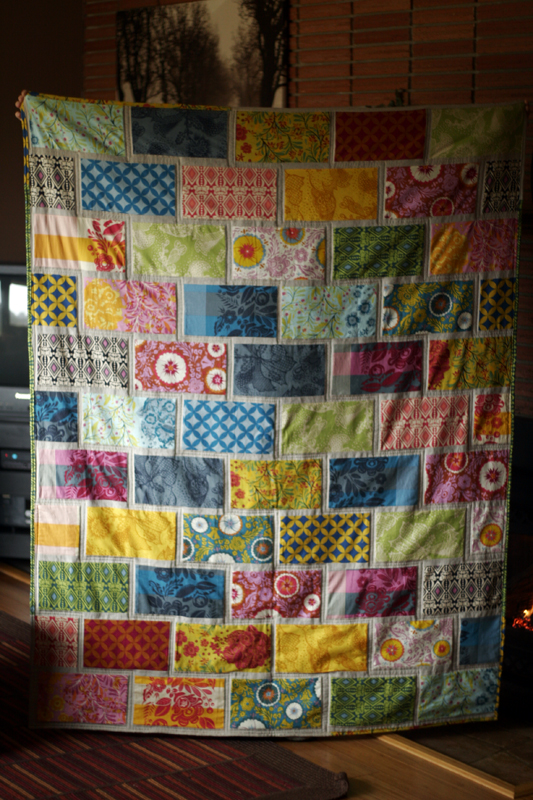 The first thing that caught my attention was obviously the colors, because for being all colorful and with very striking colors, it would be impossible not to stand out, right? And I like the fact that as much as he has lots of fabrics in between, he manages to be just sensational and he manages to be so diverse yet still have harmony between them. I know that maybe this is not something universal and that there are people who do not identify with these models, like more neutral colors and even simpler fabrics, but it is really an immense pleasure to be able to share this style with you and I am sure that if you give Colorbrick a chance you will be surprised.
Another point that I really liked and that caught my attention is the fact that it is simple. Exactly, simple. This caught my attention because right here on Patterns Here you will find models of the most varied levels of knowledge and some very complex ones, but this model is completely the opposite. It is simple, with rectangles that are very easy to make and easy to produce. Just perfect and amazing. Is not it? Just cut the fabrics you want in the same size, unite them on a fabric base and with that, you will have an incredible model. Of course it's not that simple and I said it in a very simple way, but that's basically it and I'm sure it makes this pattern even more valuable.
And the last detail that caught my attention is that it is just perfect for us to use it as a blanket, as in the photo in the post, we can use it to decorate an environment and we can also use it to even as a mat. I know this is maybe a little obvious, but I really liked how well this model can be used and doesn't restrict what and what to use. It's worth noting that all these are just my opinions about Colorbrick and there's no problem with doing it the way you imagine it, it's that here on Patterns Here I like to be able to share not only patterns but also my opinion about the models because the times and many times to tell the truth, my opinion ends up inspiring someone at the time of production.
So that's it guys, that's it for today. The Colorbrick Quilt is an amazing pattern and I really hope you enjoy every detail, with focus and a lot of attention in a few weeks you will have an amazing pattern in hand produced and beautiful like this. If you want to help Patterns Here share our site with your quilt friends, I'm sure they'll find something here that catches their attention. See you next time, I hope to see you here soon and big kisses. Xoxo!