Carousel Throw Blanket Crochet Pattern
The colored models are definitely on my favorites list, I don't know about you, but I really like models who know how to use colors well and use several at the same time. I'm in love with models who manage to do this with a different contrast and very well done. That's because I know it's not as simple as it sounds to produce a model that way.
I really like to value the designers' work and you'll see this here on Patterns Here, because it's not just a model where a person stopped, dedicated time and produced randomly. I know how hard it is to produce a model, to be able to unite the colors, the dots well and still have the work of making a free pattern available for people like you and me to have access to produce it. This is not only nice to be valued, it should be valued, so here is my highlight to Sue Pinner, author of this beautiful model.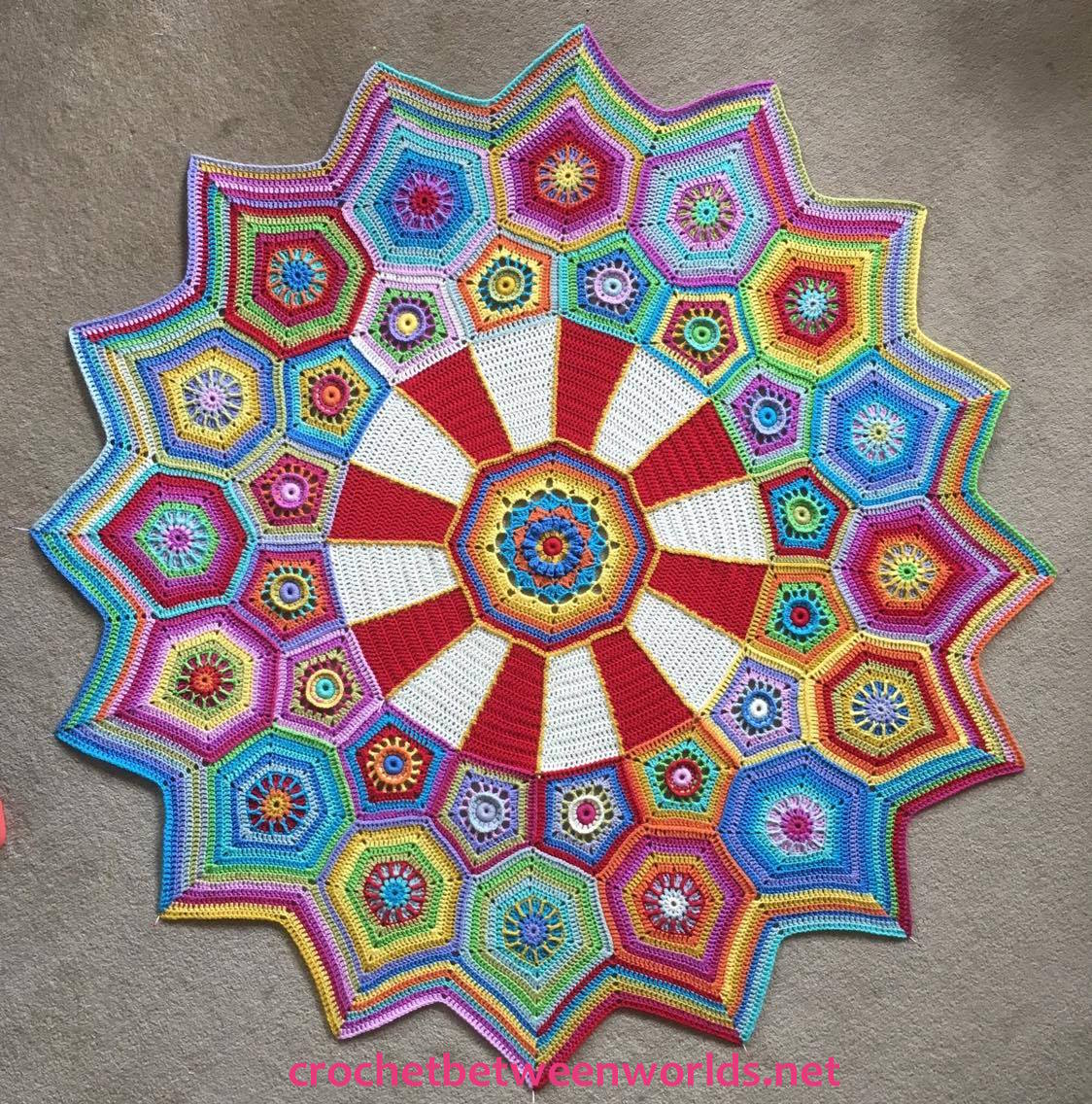 The Carousel Throw Blanket that I initially remember a lot about Mandala Madness, I don't know if it's your knowledge, but I recommend looking for it, it's a beautiful model in the mandala style that I particularly love and am passionate about. It is worth checking. And when I talk about remembering, I mention the fact that the distribution is well done, the fact that how important the details are and how important it is to be able to innovate and renew, exactly, renew points that we sometimes think are outdated. This is one of those models that will help you a lot, that will motivate and inspire you in this crochet universe, for sure. So I hope you like it a lot.
To get an idea of ​​how colorful this model is, this model from the initial photo that is exactly the pattern model, 32 types of colors were used. Isn't it amazing? Even with so many colors, it's a model that doesn't hurt the eyes because it's well distributed and well made. That's why I emphasize the importance of knowing how to use colors well. Several times I found models that had much less colors, but that couldn't stand out because the wrong colors were chosen, or better, distributed in the wrong way in the model. Which is just the opposite of this crochet blanket. I want to say to you that it is necessary to be very attentive when messing with the colors, just to not get lost in them, after all, there are so many, isn't it?
Another point that deserves to be highlighted in this model is how it can bring life to an environment, even if you decide to opt for darker colors. As much as colors bring life to the environment and I know that, a well-made model brings much more. And the Carousel Throw Blankte is exactly such a model, very well made regardless of the color you decide to use. I like the fact that he can fit in well in the bedroom, the living room, the office in a natural way and manage to stand out exactly. I also like the fact that I can use it in bed, I like the fact that I can use it under a sofa or even an armchair. That's really cool.
A fact that you might be a little disliked about this model is that it was split into six parts, but believe me, I liked that. Makes it easy so that you don't get lost when changing pages in a pdf file, it won't stop you from downloading and printing at all, or even leaving it downloaded on your tablet or cell phone, but as we are so used to the models that comes either by video or in a single pdf file, separating it into six parts was a novelty for me, but this will certainly not hinder you at all. At the most, cause you more work to be able to unite them all, isn't it? But it is very private, I prefer it all at once too, but everything is fine!
I'm sure you'll have fun and be enchanted with this model as you produce it, it's very cool the fact that it manages to be a model that, in the way it was explained, becomes easy even for those starting out, which motivated even more for me to bring this model to you. So I hope you like it, I hope you enjoy it a lot. This model is amazing and will surprise you! That's it for today folks, make it a good one. Xoxo!