Binding Tool Star Quilt Pattern
I'm always looking for new models to bring and share with you. This is serious. If there is a pattern that I find and bump into, I make a point of looking for the pattern so that I can share it with everyone who visits Patterns Here. It is a privilege and a pleasure for me, I confess. Another point is how you add and help people, I'm flattered.
That's why today's pattern is one of those models that I came across, I found it sensational and decided to bring it to share with you. The Star Quilt Binding Tool is an amazing pattern, very elegant, beautiful and well made. It goes well with everything I like and everything that stands out and draws attention to me, I'm serious. I like to say that this model gives the impression that the star is jumping, because the effect it has with the fabrics is very similar, don't you think? Or is it just my imagination?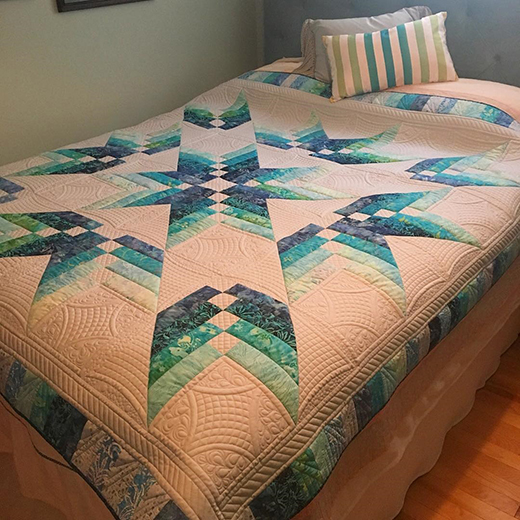 Anyway, the pattern is very well done, very well explained and is on video. Which makes it even more interesting, at least I think. We're so used to PDF standards that when you see them in videos, we're very excited. I know this is very particular because there are people who like the pdf file to download on the tablet or print and have at hand, but the video makes it much easier for those who are more beginners because they know the techniques, see what is done and how it is being made. Which makes it perfect for everyone.
Deb's Binding Tool Star Quilt is a shape clearly produced by Deb's, but the Binding Tool Star is a very popular and well known pattern. That's why I even decided to bring these other models for you to be inspired too, I'm particularly grateful to Deb because it matches everything I believe in and everything I like. But this is very private. The pattern is all produced by Jenny Doan, an amazing woman who produces and makes various patterns, shares her online tutorials and inspires thousands of people around the world. You've probably at least bumped into some pattern she's produced out there.
One of the points worth highlighting is that this pattern is easy to produce and I believe the video does a lot to make this true. I love models that are beautiful, elegant, modern and on top of that easy and simple to produce. That's all, isn't it? A tip I give is that approximately 40 fabrics will be used in this pattern if you follow exactly step by step to produce the same, but this is very personal for what you will want. I emphasize this so that whoever wants to produce precisely Jenny's, it is interesting to know what she used. A curiosity is that it is called Binding Tool Star Quilt because the binding tool was used, this is real and counts in the tutorial.
That's all folks, I'm sure you'll have fun producing this pattern. He's really amazing and on top of that he'll teach you a lot of technique, he'll help you de-stress from a stressful day and cheer you up. So concentrate, be aware that the result of your pattern will be as incredible as this one. Good luck! If you can share Patterns Here with your friends and family who like quilts, it helps a lot for the site to grow and for us to reach an even bigger size in this universe that we love so much of crafts. Thanks again and see you, xoxo!