Aria Blanket Crochet Pattern
If the colorful models, which have a certain granny square style, but which are perfect to use as a blanket and still manage to decorate the environment, are models that catch your eye, then surely this is one of those that will attract you and you are on the right place!
Today, as you could see, I made a point of separating a crochet model to share with you here that attracted me a lot, because in addition to being well made and beautiful, it's a model that will definitely inspire and teach a lot. about crochet for those who are really willing to learn! Aria Balnket is exactly what it represents and certainly manages to attract thousands of eyes, so I want to invite you to get ready to enter this journey of a crochet model that is not just another one here in Patterns Here, but is THE model that will inspire and motivate you to produce more and more crochet.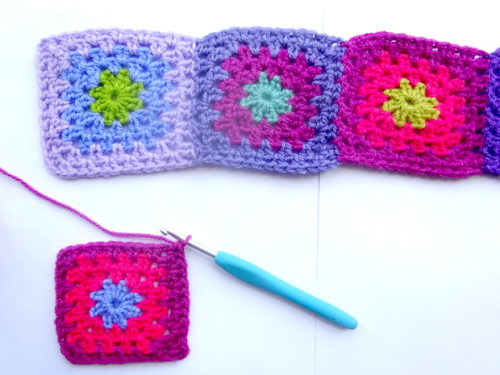 I don't know if you have any idea how incredible crochet is, but it's a worldwide style of craft that attracts millions of people to appreciate this art, which is exactly how I consider it. So, as much as I'm sharing with you here in the USA this model, it was inspired and used techniques from other cultures. What made me want to find out a little more about the origin of crochet and what made me want to share with you exactly a little bit about the story of something we love so much and sometimes we don't even know where it came from. So let's go there?
The origins of this ancient art are still uncertain. Some believe that its appearance took place in prehistory, others that it was 1500 years before Christ and there are those who say that crochet has been around since human beings began civilizations. Whatever it was, it has been in history for thousands of years. There are indications that in the beginning, crochet existed for men's clothing, aimed at hunting and fishing, and the art was made only with the fingers. Crochet as we know it today has its origins in the 16th century and one of the most accepted theories about its beginning shows that it started in Arabia, in the Middle East, reaching the world due to the trade routes of the Mediterranean, becoming extremely popular among tribes in the South America.
The other theory already indicates that its origin was in China, after all, they made dolls with the same technique, as everything shows, before there was evidence in the Middle East. But wherever this art arose, it took over the world from the 19th century onwards, due to Frenchwoman Riego de La Branchardière, who drew patterns that could be copied by people and even published around 100 books to spread the technique. Then came the "air crochet", a French technique that used only thread and needle, as we know it. After all, it previously had a "drum", as in embroidery.
The technique was performed by more humble people, which generated its devaluation. It was seen as a cheaper way to create lace and bobbins, which were extremely expensive and luxurious. Until Queen Victoria, from England, started to buy the pieces and learned how to produce them, which changed the mentality of people at the time and placed the pieces at the level of fashion. Due to the French Revolution, the technique also became widespread among the nobility, became a pastime and was then widely accepted by the nobility.
There is no denying that for many years, the techniques were learned in this way, until they began to have recipes and schools dedicated to this learning. In the 19th century, it was extremely common for children around 6/7 years old to start learning how to crochet from their mothers. The humblest children needed to contribute to the family income and, on the other hand, those of the nobility learned as a hobby. But, even today, it is common that these techniques continue to be passed from generation to generation, after all, it is linked with the time of existence and affectivity in the collective manual work. Of course, it is possible to learn more and more from the internet and in other ways, but this characteristic still perpetuates.
And this is where we are part of the continuation of this story, crochet is an ancient art, beautiful, healthy and profitable. Therefore, it makes sense to attract as many people as possible to meet and, who knows, fall in love too. Quite a responsibility to know these techniques and not let them die, isn't it? After all, after all this trajectory, I just want to go there and pick up our crochet hook and honor this past full of history that surrounds our crochet. And that's exactly what we're doing here, when I share with you every model around here on Patterns Here, that's what I want to convey.
By the way, crochet is so global and global that Aria Blanket here means air in Italian. In other words, we are unwittingly connected to other cultures and that's amazing. I hope you like today's model, have fun and can enjoy more and more of what we've been sharing here. That's it guys for today, see you next time! Xoxo!